OCTOBERFEST
ST. NICHOLAS APOSTOLATE MINISTRIES
OCTOBERFEST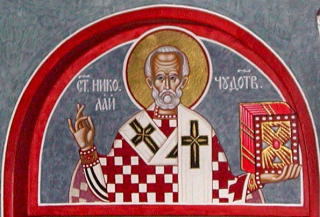 St. Michael's Byzantine Catholic Church
557 W. 57th Ave. Merrillville, IN. 46410
Sunday, October 27th, 2019
11:30 am - 2:00 pm
in our Social Hall
The afternoon's menu consists of:
Adult Menu @ $10.00 per person
Sausage & Kraut or Stuffed Cabbage
Parsley Potatoes or Halušky
Bread/Butter and Green Beans
Children's Menu @ $3.00 per child
Sloppy Joe, Chips & Beverage
Musical Entertainment Featuring Tamburitza & Ethnic Music brought to you by
Duquesne Alumni, John Pruzin Jr. and the band members of:
Braca Tamburica Orchestra of Chicago.
St. Michael, Patron Saint Feast Day
November is fast approaching and that means feast day potluck time.
Friday, November 8th, is the Solemn Holy Day,
the Synaxis of St.Michael the Archangel and all the Angels.
On Sunday, November 10th, we will celebrate our patron saint with our traditional "Potluck Lunch-in". Please keep this day in mind and think about what you and your family would like to contribute to the potluck.